The BIBL history of... Hapoel Gilboa Galil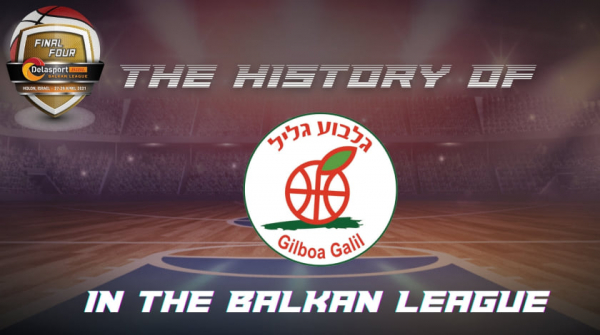 27-04-2021 | 11:14
Hapoel Gilboa Galil
is coming to the Delasport Balkan League Final 4 with a history in the competition. The team is a champion two times and lost a final once in 2014. Now, after an absence Hapoel is returning to the F4 with one aim - to tie Levski as the most times winner in the competition.
It all started back in season 2011/2012 when Hapoel Gilboa Galil joined BIBL. The team finished first in its group with 9 wins from 10 games and qualified for the Final 4 which it hosted in Gan Ner. After a semifinal win over Hapoel Tel Aviv, the hosts met Levski in the final and managed to win it in overtime as the visitors missed some good chances in regulation. Thus Hapoel celebrated in front of its fans in its first season in the league.
In the next season, Hapoel GIlboa Galil managed to once again win its group in Stage 1 and thus qualified for the Final 4 in Samokov. The team had a good showing against Kumanovo in the semifinal to reach its second final in a row. Once again the opponent was Levski and once again we witnessed a great game. This time it ended in two overtimes and once again the trophy went to Hapoel.
In 2013/2014 Hapoel Gilboa Galil participated in the competition for third season in a row. Once again the team reached the FInal 4, this time by finishing first in the Regular season. In the semifinal they managed to defeat the hosts Sigal Prishtina to set-up a third final in as many years against Levski. This time however the Blues from Sofia were prepared even better and managed to win the trophy and thus not allowing Galil to win for third straight year.
Now Hapoel Gilboa Galil will be trying to win the trophy for third time and tie Levski with the most trophies in the competition. In order to do that, they'll have to defeat the hosts of Delasport Balkan League Final 4 - Hapoel Holon. The all Israeli clash will be played tonight at 20:00 and will be broadcast LIVE on RING TV in Bulgaria, Sport 5 in Israel and on Delasport Balkan League YouTube channel.
News
Next Game
No Games Scheduled