Before the clash of the Bulgarian teams (video)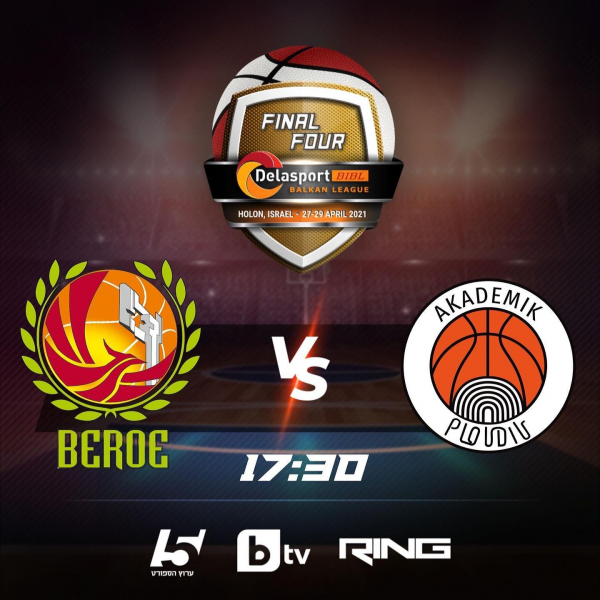 27-04-2021 | 14:42
17:30 local time in Holon, Stara Zagora and Plovdiv. This is when will happen the first jump ball of Delasport Balkan League Final Four. The two Bulgarian teams are set to meet each other as BC
Beroe
will look to play its second final of the competition while BC Akademik Plovdiv is looking for its first one.
BTV Media Group
is the official Delasport Balkan League partner for the broadcast in Bulgaria and has sent a special crew to Holon with the famous journalist Petar Bakardzhiev. Hours before the game he was able to speak with both head coaches who presented the battled between the teams. The match will be broadcast LIVE on
RING
Tv.
Here is what the coach of BC Beroe -
Lubomir
Minchev
had to say for
BTV's
crew:
"It's true that our situation is really hard. I'm not saying this in order to have an excuse. That's been the case for us since October. The worst part is that at the end of the season the thing became even worse from what it was. Despite our current condition and the potential we currently have, I told to the players that we should not look like in the last games of the Regular season in Bulgarian league. If we manage to overcome this, then we have a chance to win. It will be much harder given the situation we are in with all the injured players. The only thing I want from my players is to work hard and give their maximum. It will be good that there will be fans in the stands."
">


Below you can find what
Yordan
Yankov
, the head coach of Akademik said for
BTV
:
"It's a great feeling to be here. The organization of the Final 4 is on a high level and I know that in those hard times everybody has worked hard. Our team and the one of Beroe deserve to be here and we are happy. In this game, the fact that we beat them five times doesn't matter. Now it's the most important to win.What I'm happy about is the fact that we have very good energy in the last few games. We'll try to make the best possible preparation for the semifinal.I'm a young coach, I've been an assistant some time but with our coaching staff we are working well and everyone is helping me in my first season. Lubo Minchev is very experienced and high level coach. They have problems but I think he can motivate his players who have quality and experience. There's no place to underestimate them. It's a great experience being at the Final 4 in Israel, it's something we dream of so we'll make sure to do our best."
News
Next Game
No Games Scheduled