Akademik wins a thriller against Beroe to reach a historic final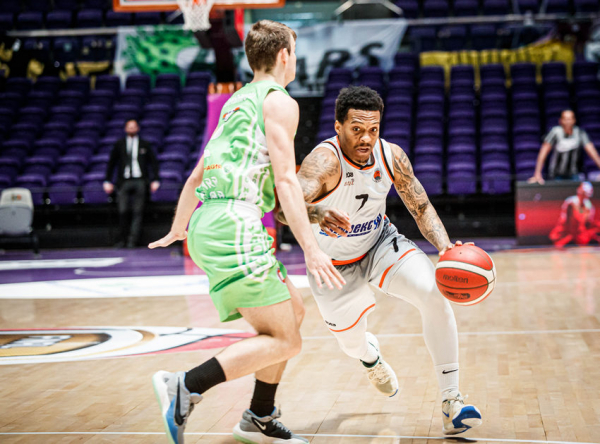 27-04-2021 | 19:20
BC Akademik Plovdiv
reached its first ever final. In the opening semifinal of Delasport Balkan League FInal Four the team managed to defeat fellow Bulgarian side
BC Beroe
66-62 in a close hard fought game. Akademik managed to hold on in the final moments of the clash and will now play in the big final on Thursday evening. As for Beroe it's a second straight semifinal loss on the competition after the one in 2019 but with the injury problems the team is having, such a performance is admirable.
Beroe had the better start early in the contest with the team counting on its experience. They did well in the first quarter and led by as much as 7 only to finish it up by 5. In the second
Akademik
improved its ball handling and it showed immediately. Soon the Plovdiv side tied the score and the teams exchanged baskets. Shortly before the end of the first half a 6-0 run put Akademik up by 5 and they held on to that advantage at the break.
Beroe tied the score early in the third quarter as the teams continued to fight hard. The Greens even managed to take a 4-point lead but a 5-0 run to end the quarter gave a point edge to Akademik. The match continued to be close until the end. With 2:11 to play
Titkov
scored to give Akademik a 2-point lead and
Gugino
followed to put them up by 4.
Gavin
responded with a triple with a minute to go but it was the last time Beroe scored.
Vucica
answered right away and missed two straight three-pointers and then made a mistake, the Croatian forward scored one free throw to ic
Obrad Tomic
was the top performer for the winners with 16 points and 15 rebounds for a double-double.
Anthony
Gugino's
experience was also important as he contributed with 14 points and 6 rebounds as
Jere
Vucica
had 11 and 8.
James Gavin
was the top scorer of the game with 19 points for Beroe.
Mihail Kombakov
and
Cadarian Raines
were the next best scorers with 10 points apiece.
News
Next Game
No Games Scheduled