Aleksandar Milojevic celebrated by Delasport Balkan League for his successful officiating career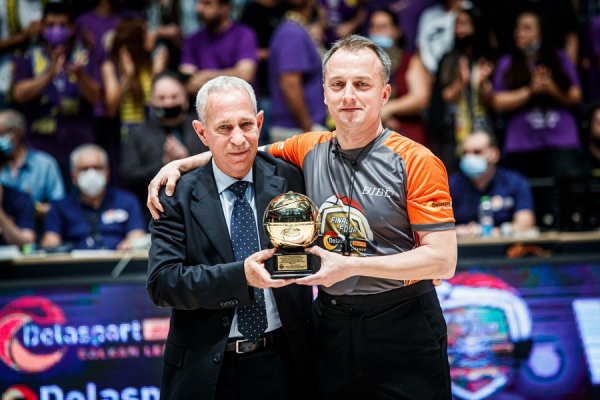 29-04-2021 | 21:33
Shay Shtriks
personally and the Management of Delasport Balkan League would like to congratulate Mr.
Aleksander
Milojevic
from the Republic of North Macedonia for his successful career in the basketball officiating and to thank him for being part of the Balkan League referee's family since 2008.
Mr
Milojevic
became a referee back in 1992, FIBA referee since 2001 and built a very respectable name in Europe having achieved 2 FIBA Final Fours, 4 FIBA Eurobaskets, 3 Balkan League Final Fours with 5 years part of the Euroleague and 13 years of the Balkan League as well.
This final game tonight is the last one in his career as active referee on the court!
Delasport Balkan League, the Israeli Winner League, BC Hapoel Holon and BC Akademik Plovdiv wish him good luck and all the best in his future activities in the basketball world. Before the start of the Final game of season 2020/2021 he was presented with a special award by Mr.
Shay Shtriks
- Sports Director of Delasport Balkan League.
News
Next Game
No Games Scheduled