Thank you, Ring TV, thank you BTV Media Group!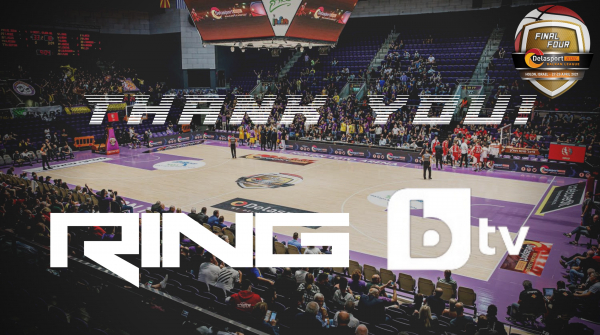 30-04-2021 | 15:25
BTV Media Group with its channel - RING Tv, joined the Delasport Balkan League family by broadcasting the Final Four 2021 in Holon. Not only that but the media also sent a special crew to cover the games of the Bulgarian teams and the whole event in general which did amazing job and managed to literally transmit the athmosphere, the celebration, the fans joy to the Bulgarian audiance. With the LIVE broadcasts from the practices, LIVE interviews and the LIVE broadecast of the games themselves, RING Tv succeeded in bringing back the Bulgarian viewers to the real basketball event, with 2000 spectators, cheering up and supporting their favourite team - something long forgotten during the Covid-19 pandemic but yet brought back to life in Israel.
Now the management of Delasport Balkan League would like to say:
Thank you, RING Tv, thank you BTV Media Group
! Thank you for believing in our product! It was pleasure working with you and we hope this is only the beginning of a new successful collaboration!
News
Next Game
No Games Scheduled