KK Kumanovo to play in Delasport BIBL for 6th season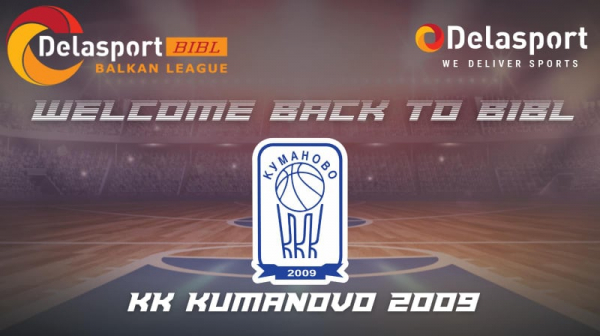 30-07-2021 | 19:02
KK Kumanovo 2009
will continue to be a part of Delasport Balkan League. The North Macedonian team sent today all the necessary documents and was officially registered for season 2021/2022. It will be the team's 6th participation in the competition.
KK Kumanovo 2009
is the third team of North Macedonia that will be a part of Delasport BIBL this season. KK
TFT
confirmed that already few weeks ago while today it became clear that KK
Navico
Akademija
FMP
will also play in the league.
After a slow start, Kumanovo managed to reach the Second Stage in the competition last season. The team played some good games but couldn't get a single win and didn't qualify for the Final 4. Now the aim for the team will certainly once again be to get as far as possible.
As this will be the team's 6th season in the competition, it's safe to say that Kumanovo is one of the historic BIBL clubs. Their best achievement came in 2017 when the team reached the final before losing it to Beroe. Before that in the debuting season in the competition, the team reached the Final Four back in 2013 but lost both games.
The draw for the new season in Delasport Balkan League will take place on August 26 in Delasport office in Sofia.
News
Next Game
12 Oct 2021

Hapoel Nufar Energy Galil Elion
BC Balkan
Schedule
Kfar Blum | Sports Hall

12 Oct 2021
Hapoel Nufar Energy Galil Elion
BC Balkan

Kumanovo | Sports Hall Pero Nakov

12 Oct 2021
KK Kumanovo 2009
KK Kumanovo 2009

Rozaje | Sportski Centar

12 Oct 2021
KK Ibar Rozaje
BC Akademik Plovdiv

Nahariya | Ein Sara

14 Oct 2021
Ironi Rain Nahariya
BC Beroe

Prishtina | Pallati i Rinise dhe Sporteve

14 Oct 2021
KB Sigal Prishtina
BC Akademik Plovdiv

Plovdiv | Complex Sila

19 Oct 2021
BC Akademik Plovdiv
BC Beroe
All times are local time