The city of Prishtina celebrated Edo Azemi's career with a special mural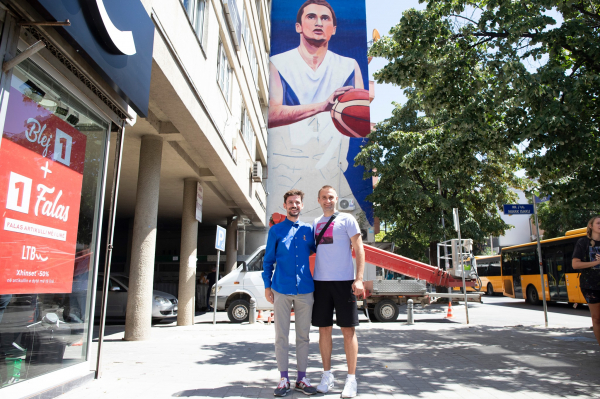 14-08-2021 | 13:04
Some few weeks ago it was announced that KB Sigal Prishtina legend -
Edmond
Azemi
will end his career as a player. The new board of club offered him to stay with the team in the position of General Director and to work mainly with the Academy and the young players coming out from it.
To celebrate his illustrious career and to honor his retirement, the city of Prishtina, elected to dedicate to
Edo
, as everybody is used to call him, a special mural as part of the project "Give color to Prishtina". The Belgian artist Kitsune Jolene did the work on one of the buildings in the capital of Kosovo.
Azemi's
career with Prishtina started way back in 1999 when he entered the first team along with other notable players. 22 years later he felt it was time to stop playing and move to a new role. Azemi finished with a total of 36 trophies which is something never seen in the basketball of Kosovo. He had 12 Super League titles, 14 Kovovo Cups, 7 Supercups of Kosovo, 2 trophies from Delasport Balkan League and 1 title of the Super League of Iceland.
Outside of Kosovo,
Azemi
has played for Valbona in Albania, KR Baskte in Iceland and MZT Skopje and Lirija in North Macedonia. In his country, he never suited up for a different time other than Sigal Prishtina. That's why he is so beloved by the team's fans and will forever be an icon and a legend for the basketball not only in Prishtina but in Kosovo.
News
Next Game
12 Oct 2021

Hapoel Nufar Energy Galil Elion
BC Balkan
Schedule
Kfar Blum | Sports Hall

12 Oct 2021
Hapoel Nufar Energy Galil Elion
BC Balkan

Kumanovo | Sports Hall Pero Nakov

12 Oct 2021
KK Kumanovo 2009
KK Navico Akademija FMP

Rozaje | Sportski Centar

12 Oct 2021
KK Ibar Rozaje
BC Akademik Plovdiv

Nahariya | Ein Sara

14 Oct 2021
Ironi Rain Nahariya
BC Beroe

Prishtina | Pallati i Rinise dhe Sporteve

14 Oct 2021
KB Sigal Prishtina
BC Akademik Plovdiv

Plovdiv | Complex Sila

19 Oct 2021
BC Akademik Plovdiv
BC Beroe
All times are local time