BC Beroe will continue in Delasport Balkan League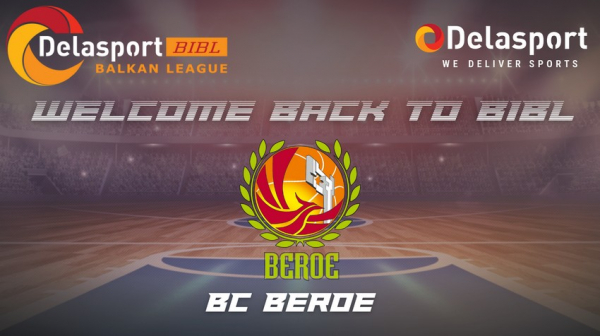 16-08-2021 | 10:08
BC Beroe
will continue to play in Delasport Balkan League. The Stara Zagora team and the management of the competition have come to an agreement and it's officially confirmed that The Greens will once again take part in the league. It will be the team's 5th participation in BIBL with the best result coming in 2017 when they won it.
Last season Beroe managed to reach the Final 4 but lost both its games - to Akademik Plovdiv and then to Hapoel Gilboa Galil. For the upcoming season there are a lot of changes in the team with the main one coming at the coaching position with former assistant Boyko Milenkov taking over Lubomir Minchev.
Beroe
has already announced that will count on some young players and has new additions to the team like the assistant coach Tedi Bukov and the American player De'Quan Abrom.
"
We'll continue to play not to won the league but to give chance to our young team to encounter stronger and more quality opponents. We'll continue because teams and player can develop not just by practice but mainly when they get on the court and start fighting and competing against other teams. We'll continue to play in BIBL because we want to give to our fans more and more emotions. We'll continue to play because we want the Balkan region and Israel to see our sponsors and be able to feel and touch the spirit of the city of Stara Zagora
" said following the announcement the president of BC Beroe -
Vasil Kifev
.
News
Next Game
12 Oct 2021

Hapoel Nufar Energy Galil Elion
BC Balkan
Schedule
Kfar Blum | Sports Hall

12 Oct 2021
Hapoel Nufar Energy Galil Elion
BC Balkan

Kumanovo | Sports Hall Pero Nakov

12 Oct 2021
KK Kumanovo 2009
KK Navico Akademija FMP

Rozaje | Sportski Centar

12 Oct 2021
KK Ibar Rozaje
BC Akademik Plovdiv

Nahariya | Ein Sara

14 Oct 2021
Ironi Rain Nahariya
BC Beroe

Prishtina | Pallati i Rinise dhe Sporteve

14 Oct 2021
KB Sigal Prishtina
BC Akademik Plovdiv

Plovdiv | Complex Sila

19 Oct 2021
BC Akademik Plovdiv
BC Beroe
All times are local time