Solid second half defense leads Balkan to win over Levski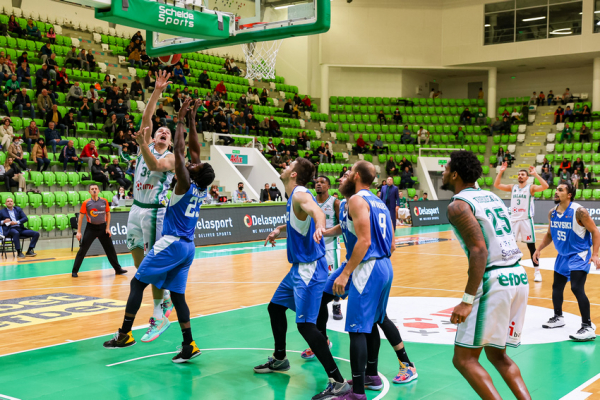 03-11-2021 | 18:49
In one of the best games early in the Delasport Balkan League season, BC
Balkan
managed to defeat BC
Levski
2014
by a score of
82-71
at home. Both sides played an intense and interesting contest which was decided by the home team's defense in the second half. Balkan made few good runs after the break and thanks to that managed to build an advantage which the held until the end. It was Balkan's first win in Group A in the team's second game while it was Levski's season debut. Next week The Greens will host KK Kumanovo 2009 while The Blues will play the same opponent two days later - on November 11th.
It was a close and even start to the game as no team could take any advantage. The first to do so was Balkan as that happened in the second quarter when the team went up by 6. Levski however responded with 7-0 run to once again take the lead. After both sides exchanged baskets, The Blues managed to pull away and even took a 6-point advantage. The visitors also had a chance to increase the lead even more but
Radic
missed four free throws in a row. The hosts took advantage from that and scored two points to cut the deficit to 3 and it stayed like that after the end of 20 minutes.
Shortly after the start of the second half the hosts made a 5-0 run to go up by then the visitors tied the score. They even took a 1-point lead but Balkan responded with 8 points in a row to take an advantage of 7. Kostov stopped the run with triple to close the gap to 4 and it stayed the same as both teams couldn't score in the final minutes of the third quarter.
The hosts had a great start to the final ten minutes and with an 11-5 run in 2:38 minutes they took the first double-digit lead of the game and forced the visitors to take a time out. Levski managed to cut the gap to 5 but the hosts answered with an 8-0 run to go up by 13 with 3:07 to play. That turned out to be the decisive moment of the game as in the final minutes the hosts held on to get a good win.
Five players scored in double figures for the winners in a really balanced offense. Balkan was led by
Derrick Marks
and
Dimitar
Dimitrov
who had 16 points apiece while
Kahlil Dukes
had 14 and 4 assists.
Chavdar Kostov
was the top scorer for the visitors with hist 16 points as he also added 5 rebounds.
Elijah Mitrou-Long
was the next best scoring wise and had 13 points. The Blues missed a total of 10 free throws, including 7 by Radic, which also had an effect on the final score.
BOXSCORE
News
Next Game
No Games Scheduled