Yordan Yankov: We took some bad decisions at the end (video)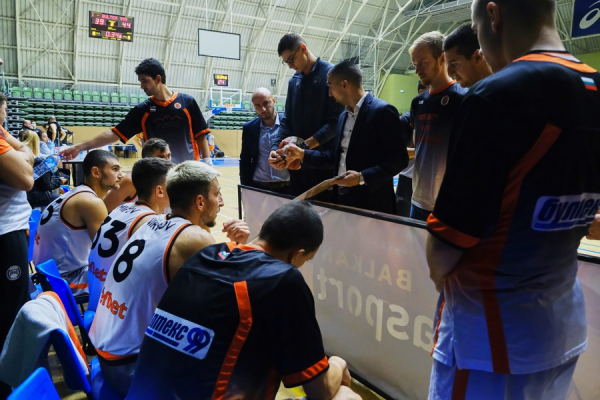 09-11-2021 | 16:16
Akademik Plovdiv lost for the first time this season after being defeated by KK TFT at home. Below you can find some quotes from the home once the game was over:
Yordan Yankov, head coach of BC Akademik Plovdiv
: "I would like to thank the fans who came to support us. I'm really happy that I'm seeing people in the stands. Perhaps we lacked experience in the key moments. We took some bad decisions and given the fact that we have young players, that's normal. This game was an improvement from the last one we had. We are continuing to work on things we are missing and I believe we'll perform even better. The emotions really got in to us as we reacted on some refereeing decisions and that had an effect on our performance."
Vasil Bachev, player of BC Akademik Plovdiv
: "We allowed a lot of points - 86, which is too much for a home game. In general we are doing well in Delasport Balkan League. In the last few games we are not playing in the best possible way but I think that with time we'll improve."
Nikolay Nikolov, player of BC Akademik Plovdiv
: "We lacked aggression early in the game but still we were close to catching them before 2-3 bad defenses decided the outcome. I'm feeling well and I'm getting in to a better rhythm."
News
Next Game
20 Dec 2022

KB Peja
KK Milenijum Kodio

| | |
| --- | --- |
| Karagaci | Referees: |
Schedule
Peje | Karagaci

20 Dec 2022
KB Peja
KK Milenijum Kodio

Prizren | Sezai Surroi

27 Dec 2022
KB Bashkimi
Hapoel Altshuler Shaham Beer Sheva/Dimona

Sofia | Universiada

28 Dec 2022
BC Levski 2014
BC Budivelnyk Kyiv

Peje | Karagaci

29 Dec 2022
KB Peja
Hapoel Altshuler Shaham Beer Sheva/Dimona

Podgorica | SKC-Univerziteta Crnegore

04 Jan 2023
KK Milenijum Kodio
BC Levski 2014

Prizren | Sezai Surroi

05 Jan 2023
KB Bashkimi
BC Levski 2014
All times are local time