Boyko Milenvov: Nothing worked for us (video)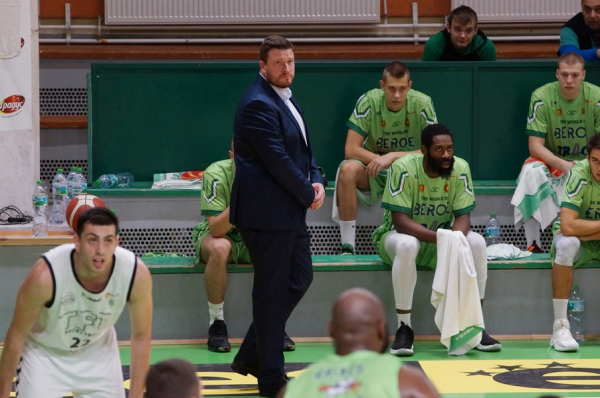 10-11-2021 | 12:30
BC Beroe suffered a defeat in the team's irst home game of the season in Delasport Balkan League. The team lost to TFT which played also the day before but showed more energy in the game. Here are some quotes from the home side:
Boyko Milenkov, head coach of BC Beroe
: "One more bad game for us. Nothing worked for us. At the break our main point guard - Anton Cook, said that he wasn't feeling well so we decided not to risk him. Really nothing went well for us - nor in defense, nor in offense.
They opened the game slower and we let ourselves play to their tempo although we wanted to use every opportunity. They played a game the previous day and we were supposed to be fresher. They started slower, we never woke up and instead they did. Even in the second half they hade bigger energy than us."
Damyan Minkov, player of BC Beroe
: "We played a really bad game, perhaps one of the worst in the season. We went not focused enough and not motivated. The main problem was our defense which was due to lack of energy."
News
Next Game
20 Dec 2022

KB Peja
KK Milenijum Kodio

| | |
| --- | --- |
| Karagaci | Referees: |
Schedule
Peje | Karagaci

20 Dec 2022
KB Peja
KK Milenijum Kodio

Prizren | Sezai Surroi

27 Dec 2022
KB Bashkimi
Hapoel Altshuler Shaham Beer Sheva/Dimona

Sofia | Universiada

28 Dec 2022
BC Levski 2014
BC Budivelnyk Kyiv

Peje | Karagaci

29 Dec 2022
KB Peja
Hapoel Altshuler Shaham Beer Sheva/Dimona

Podgorica | SKC-Univerziteta Crnegore

04 Jan 2023
KK Milenijum Kodio
BC Levski 2014

Prizren | Sezai Surroi

05 Jan 2023
KB Bashkimi
BC Levski 2014
All times are local time