Strong third quarter is enough for Balkan to defeat Navico Akademija FMP at home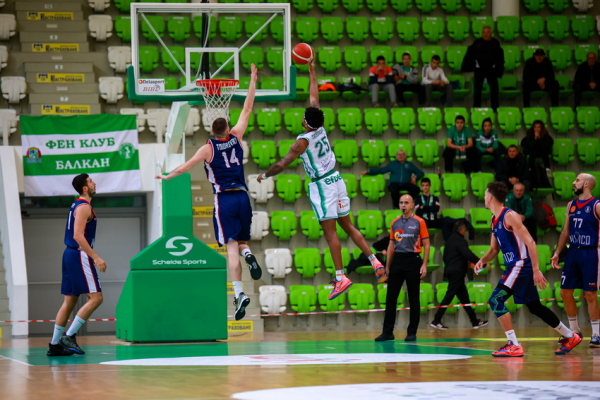 08-12-2021 | 19:47
BC Balkan
recorded its third win in a row in Delasport Balkan League. The Botevgrad team hosted
KK Navico Akademija FMP
and took
80-71
victory after a hard-fought contest. The Greens played very good defense in the third quarter which allowed them to go up by double-digits and held on until the end. Now Balkan has 3-1 record and will host Hapoel Nufar Energy Galil Elion on December 21st. FMP on the other side is 0-4 in the standings and next week will welcome Levski at home in an important game for both sides in the battle for a spot in the Second Stage.
The first half was really close as the teams put up a serious fight with no one being able to take any big advantage. The hosts were the team to have the lead but the visitors were close and at the break the difference was just 3 points.
All changed early in the second half which Balkan opened with a 15-5 run to go up by 13. The home side controlled the game after that as the difference stayed the same once the third quarter finished. In the last one the visitors tried to close the gap and they did so near the end but never threathened the hosts.
Derrick Marks
was the top scorer for the winners with 21 points as he also added 5 assists.
Travin Thibodeaux
also did well with 15 points and 8 rebounds as
Kahlil
Dukes
had 13 points and 9 assists.
The visitors were led by
Billy Ivey
who had 21 points and 5 assists.
Nedeljko
Kosanin
had 13 points and 5 rebounds as
Leonid
Todorovski
had 10 and 6.
BOXSCORE
News
Next Game
24 Jan 2022
18.00
Sport 5, YouTube
KK TFT
Ironi Rain Nahariya


SC Kale
Referees:
Ognjen Jokic
Nikos Tziopanos
Ioannis Agrafiotis
Commissioner:
Zoran Sutulovic
Schedule
Skopje | SC Kale

24 Jan 2022 18.00
KK TFT
Ironi Rain Nahariya
Sport 5, YouTube

Rozaje | Sportski Centar

25 Jan 2022 17.00
KK Ibar Rozaje
LIVE
Ironi Rain Nahariya
Sport 5, YouTube

Skopjie | Nezavisna Makedonija

25 Jan 2022 17.00
KK Navico Akademija FMP
LIVE
BC Balkan
YouTube

Prishtina | Pallati i Rinise dhe Sporteve

26 Jan 2022 20.00
KB Sigal Prishtina
LIVE
Ironi Rain Nahariya
Artmotion, Sport 5, YouTube

Kfar Blum | Sports Hall

01 Feb 2022
Hapoel Nufar Energy Galil Elion
LIVE
BC Levski 2014

Skopje | SC Kale

01 Feb 2022 19.00
KK TFT
BC Beroe
YouTube
All times are local time