Aleksandar Petrovikj: Our mistakes allowed Balkan to score easy points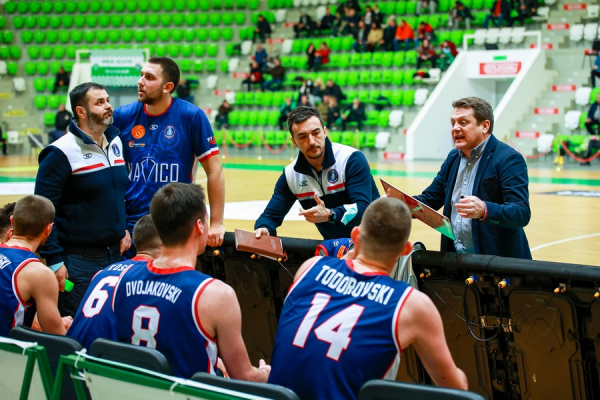 08-12-2021 | 21:06
KK Navico Akademija FMP played a good game against Balkan but a bad third quarter sealed the fate of the team in Botevgrad. Here is what the head coach of the North Macedonian team
Aleksandar
Petrovikj
had to say following the defeat:
"I congratulate Balkan for the win. We lost the game in the third quarter. We allowed them to score easy baskets after our mistakes. This game will be a good lesson for us as we have an important one in the local league on Sunday. We have pretty much even stats, and we controlled the rebound. Our mistakes in the third quarter affected the outcome and allowed Balkan to score easy points. We also played without our best player Krstajic who felt pain in his knee. In general Balkan deserved to win."
Billy Ivey
was the top scorer for FMP finishing with 21 points. Here is what he had to say:
"We fought. We made some mistakes which we have to clean up. I also missed some shots but I thnik that we fought much more than in our previous games in the Balkan League. We had a chance to win but we missed a lot of shots early in the third quarter and this was the reason for their strong run. They scored a lot of points on fast breaks and it all reflected on the score. I think we have a chance to qualify."
News
Next Game
24 Jan 2022
18.00
Sport 5, YouTube
KK TFT
Ironi Rain Nahariya


SC Kale
Referees:
Ognjen Jokic
Nikos Tziopanos
Ioannis Agrafiotis
Commissioner:
Zoran Sutulovic
Schedule
Skopje | SC Kale

24 Jan 2022 18.00
KK TFT
Ironi Rain Nahariya
Sport 5, YouTube

Rozaje | Sportski Centar

25 Jan 2022 17.00
KK Ibar Rozaje
LIVE
Ironi Rain Nahariya
Sport 5, YouTube

Skopjie | Nezavisna Makedonija

25 Jan 2022 17.00
KK Navico Akademija FMP
LIVE
BC Balkan
YouTube

Prishtina | Pallati i Rinise dhe Sporteve

26 Jan 2022 20.00
KB Sigal Prishtina
LIVE
Ironi Rain Nahariya
Artmotion, Sport 5, YouTube

Kfar Blum | Sports Hall

01 Feb 2022
Hapoel Nufar Energy Galil Elion
LIVE
BC Levski 2014

Skopje | SC Kale

01 Feb 2022 19.00
KK TFT
BC Beroe
YouTube
All times are local time