Sigal Prishtina wins a thriller in Stara Zagora thanks to a free throw with 0.5 seconds to play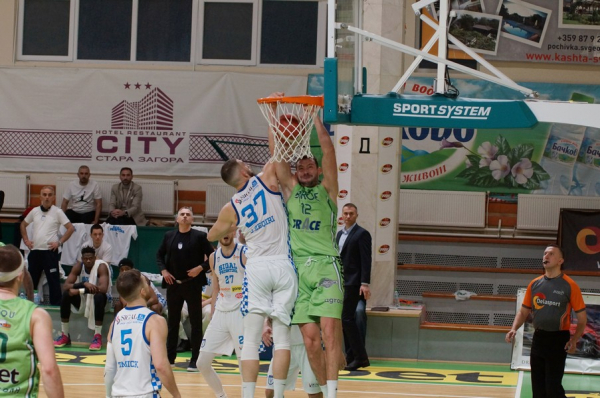 20-12-2021 | 19:54
KB Sigal Prishtina recorded its first away win in Group B of Delasport Balkan League and what a win it was. The Kosovo team overcome BC Beroe in a thriller winning 94-93 away. It was thanks to a Nickolas Tomsick free throw with 0.5 seconds to play as it gave Sigal the lead. This win puts the Kosovo team on a 4-2 record and in a good position to advance while Beroe is now at 2-6 and the things for the The Greens are complicated. On Wednesday Sigal will visit Akademik in Plovdiv while Beroe will host the fellow Bulgarian team in the middle of January in its next game.

The visitors scored the first basket of the game and then had a 5-2 lead but Beroe answered with a 13-2 run go up by 8. Until the end of the first quarter The Greens not only managed to hold on to their advantage but also increased it to double digits thanks to another strong run. The visitors though found their rhythm early in the second as they opened it with a 15-2 run which brought them back in the game. It didn't take long for Sigal to take the lead once again and the team stayed ahead to be up by 3 at the break.


The teams stayed close in the second half with Sigal leading but not by much. The drama came in the final minutes as it three to go Beroe started a 9-0 run which put them up by 3 points in the final seconds. Theh though the hosts made an unsportsmanlike fould which the visitors used to a full advantage and tied the score thanks to one free throw by Lejson Zeqiri and a basket by Tomsick. The home team then missed which gave a chance to Sigal. Beroe also had a foul to give and made it with 3 seconds to play but then came the mistake as with 0.5 seconds on the clock Tomsick was fouled shooting a triple. He made just the second free throw and then missed intentionally the third which meant a victory for the visitors as there was no time left.

The visitors had a great shooting night from outside as they had 17 triples from 38 attempts compared to just 6 from 22 for Beroe.

Wendell Mitchell was the top scorer for the winners with 21 points. Jan Palokaj also did well by adding 20 as Jetmir Zeqiri added 15.

Aleksandar Yanev had his best game of the season finishing with a monster double-double of 28 points and 15 rebounds. Cadarian Raines also did well with 16 and 6 as Anton Cook had 14 points and 6 assists.



News
Next Game
24 Jan 2022
18.00
Sport 5, YouTube
KK TFT
Ironi Rain Nahariya


SC Kale
Referees:
Ognjen Jokic
Nikos Tziopanos
Ioannis Agrafiotis
Commissioner:
Zoran Sutulovic
Schedule
Skopje | SC Kale

24 Jan 2022 18.00
KK TFT
Ironi Rain Nahariya
Sport 5, YouTube

Rozaje | Sportski Centar

25 Jan 2022 17.00
KK Ibar Rozaje
LIVE
Ironi Rain Nahariya
Sport 5, YouTube

Skopjie | Nezavisna Makedonija

25 Jan 2022 17.00
KK Navico Akademija FMP
LIVE
BC Balkan
YouTube

Prishtina | Pallati i Rinise dhe Sporteve

26 Jan 2022 20.00
KB Sigal Prishtina
LIVE
Ironi Rain Nahariya
Artmotion, Sport 5, YouTube

Kfar Blum | Sports Hall

01 Feb 2022
Hapoel Nufar Energy Galil Elion
LIVE
BC Levski 2014

Skopje | SC Kale

01 Feb 2022 19.00
KK TFT
BC Beroe
YouTube
All times are local time