A monstrous third quarter leads Hapoel Galil Elion to the win in Botevgrad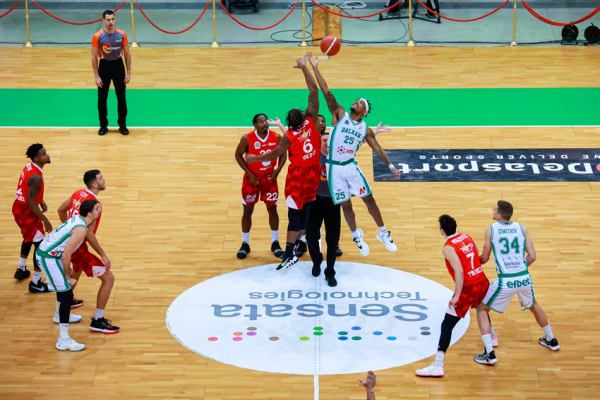 21-12-2021 | 20:52
Hapoel Nufar Energy Galil Elion
recorded its sixth win in a row in Group A of Delasport Balkan League. The Israeli side visited BC
Balkan
in Botevgrad and won
70-64
thanks to a great third quarter. The hosts led at the break but had no answer for the aggressive defense of its opponent in the third period and their comeback attempt in the final minutes came up short. The Greens from Botevgrad now moved to 3-2 record and on January 12th will meet Maccabi Next Urban Haifa.
Hapoel
on the other side is the undisputed leader in the group and on Thursday will visit Levski.
Hapoel scored the first 5 points of the game and generally played better in the first minutes. The visitors managed to build a lead and kept it around 5-7 points for the most part of the quarter. At the end of it the difference was 7 points while shortly after the second started it went to 8 points. Then however Balkan went on a great run and after 15 points in a row took the lead. In the final two minutes of the first half they not only managed to keep it but thanks to a Marks' triple at the buzzer, Balkan had a 9-point edge after 20 minutes.
Hapoel entered the court after the break playing an aggressive style of basketball and already in the middle of the third quarter managed to take the lead. That happened after an opening run of 13-2 as it put them up by 1. The run by the visitors continued after that as well as they scored 9 more points to be up by 10 after 30 minutes as they allowed Balkan to score just three in the third quarter. As Hapoel opened the fourth period with a 6-1 run and the advantage increased to 15 points but then the hosts finally got something going and thanks to 7 points in a row cut the deficit to just 8. The visitors kept their lead but Balkan wasn't giving up and closed the gap to just 3. The home side even had a chance to tie but Grozev missed a three-pointer and then as Iroegbu scored with 27 seconds to play, it pretty much decided the outcome.
Ikenna Iroegbu
was the top scorer in the game as he finished with 23 points. The only other teammate to finish in double figures was
Chavaughn
Lewis
with 11 points as the other were distributed by 7 other players.
Balkan was led by
Derrick
Marks
who had 14 points and 4 assists.
Travin
Thibodeaux
had 13 points as
DeVaughn Washington
added 12. The hosts had 15 offensive rebounds compared to just 5 by the visitors who also had 23 turnovers, but they couldn't take advantage of that.
BOXSCORE
News
Next Game
24 Jan 2022
18.00
Sport 5, YouTube
KK TFT
Ironi Rain Nahariya


SC Kale
Referees:
Ognjen Jokic
Nikos Tziopanos
Ioannis Agrafiotis
Commissioner:
Zoran Sutulovic
Schedule
Skopje | SC Kale

24 Jan 2022 18.00
KK TFT
Ironi Rain Nahariya
Sport 5, YouTube

Rozaje | Sportski Centar

25 Jan 2022 17.00
KK Ibar Rozaje
LIVE
Ironi Rain Nahariya
Sport 5, YouTube

Skopjie | Nezavisna Makedonija

25 Jan 2022 17.00
KK Navico Akademija FMP
LIVE
BC Balkan
YouTube

Prishtina | Pallati i Rinise dhe Sporteve

26 Jan 2022 20.00
KB Sigal Prishtina
LIVE
Ironi Rain Nahariya
Artmotion, Sport 5, YouTube

Kfar Blum | Sports Hall

01 Feb 2022
Hapoel Nufar Energy Galil Elion
LIVE
BC Levski 2014

Skopje | SC Kale

01 Feb 2022 19.00
KK TFT
BC Beroe
YouTube
All times are local time