Sigal Prishtina wins another drama for five in a row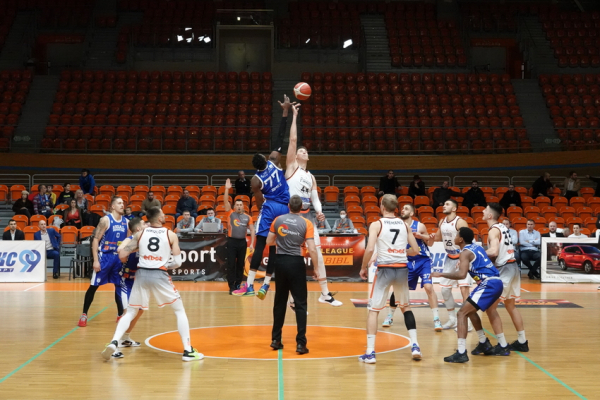 22-12-2021 | 19:25
KB Sigal Prishtina
won its fifth game in a row in Group B of Delasport Balkan League. The team finished a successful trip to Bulgaria after downing
BC Akademik Plovdiv 78-74
two days after beating Beroe in Stara Zagora. Once again the victory came in a dramatic fashion as the match was decided in the final seconds. With that victory Sigal practically secured its place in Stage 2 thanks to its 5-2 record while Akademik is with 5-4 and also in a good position to qualify. On January 10th Sigal will host Ibar while Akademik will visit Beroe on January 13th.
The visitors opened the game by scoring the first 6 points which led to a timeout for the hosts. That immediately had them playing better defensively and thanks to that managed to also cut the deficit. They couldn't score a lot but were close to Sigal but the visitors still managed to have a good advantage of 5 points after ten minutes. In the second quarter the match continued to be close with Sigal leading but Akademik wasn't far away as at the break the difference was 4 points.
Things didn't change much in the third quarter - Sigal was leading and Akademik was looking to stay close and overcome them. After 30 minutes the visitors' lead was just a point and it increased to 3 shortly after the fourth quarter started. Then the hosts answered with a 6-0 run which allowed them to take the lead for the first time in the game. After the teams exchanged baskets again, the visitors retook the advantage and managed to hold on to it in the end as they scored their free throws.
Dachon Burke
was the top scorer for the winners with 21 points.
Wendell
Mitchell
did well by adding 17 as Biram Faye had a double-double with 16 points and 15 rebounds.
The hosts were led by
Nemanja
Besovic
who finished with 12 points and 8 rebounds.
Tomislav
Minkov
had 11 and 9 as
Nikolay
Titkov
scored 10 points.
News
Next Game
24 Jan 2022
18.00
Sport 5, YouTube
KK TFT
Ironi Rain Nahariya


SC Kale
Referees:
Ognjen Jokic
Nikos Tziopanos
Ioannis Agrafiotis
Commissioner:
Zoran Sutulovic
Schedule
Skopje | SC Kale

24 Jan 2022 18.00
KK TFT
Ironi Rain Nahariya
Sport 5, YouTube

Rozaje | Sportski Centar

25 Jan 2022 17.00
KK Ibar Rozaje
LIVE
Ironi Rain Nahariya
Sport 5, YouTube

Skopjie | Nezavisna Makedonija

25 Jan 2022 17.00
KK Navico Akademija FMP
LIVE
BC Balkan
YouTube

Prishtina | Pallati i Rinise dhe Sporteve

26 Jan 2022 20.00
KB Sigal Prishtina
LIVE
Ironi Rain Nahariya
Artmotion, Sport 5, YouTube

Kfar Blum | Sports Hall

01 Feb 2022
Hapoel Nufar Energy Galil Elion
LIVE
BC Levski 2014

Skopje | SC Kale

01 Feb 2022 19.00
KK TFT
BC Beroe
YouTube
All times are local time