Maccabi Next Urban Haifa is too much on defense for Levski in the second half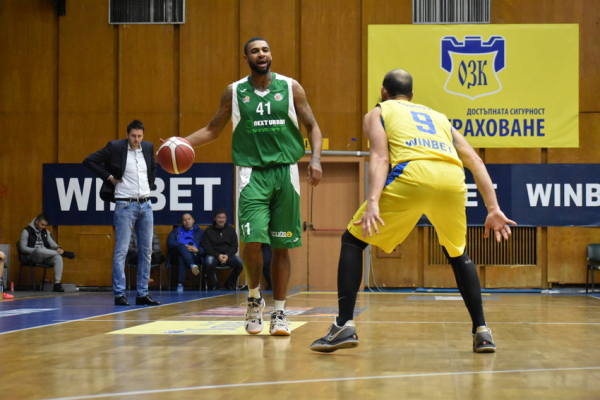 10-01-2022 | 19:54
Maccabi Next Urban Haifa
started well its trip to the Balkans where the team will play 4 games in 8 days. The Israelis defeated
BC Levski 2014
by the score of
78-60
in Sofia after dominating on defense in the second half and allowing just 20 points in it. In the first the hosts managed to stay close thanks to their scoring but once the visitors started playing better defense, they were no match for The Blues. That result takes Maccabi to a 2-2 record and on Wednesday the team will visit Balkan in Botevgrad. Levski in the meantime now has 2-3 record and next week will host KK Navico Akademija FMP.
Levski had the better start to the game and took an early 11-2 lead. Maccabi started coming back slowly but in the first quarter the home side managed to stay ahead and was up by 3 at the end of it. In the second the visitors took the lead for the first time but the teams continued to exchange baskets. Thanks to a 6-0 run Maccabi went once again up as it took a 3-point lead as then a few minutes without scoring followed. The Blues managed to tie but after e Puntey triple it was Maccabi who was up by 2 after 20 minutes of play.
Maccabi came out really focused on defense after the break and manage to build a double-digit advantage. The Israelis started the third quarter on a 15-3 run and the lead jumped to 14 points. After that the team from Haifa managed to keep its lead and was up by 11 after 30 minutes while early in the fourth they decided the game after increasing it to over 20 points.
Raphniel Putney
was the top performer for the winners finishing with 20 points and 12 rebounds.
Daniel
Koperberg
did well by adding 14 and 10 while
Kwame
Vaughn
had 12 points and 6 assists.
The hosts were led by
Chavdar
Kostov
who finished with 18 points and 4 rebounds.
Ivica
Radic
was the only other in double figures after scoring 10 points.
BOXSCORE
News
Next Game
No Games Scheduled