TFT survives against Ibar to move closer to Stage 2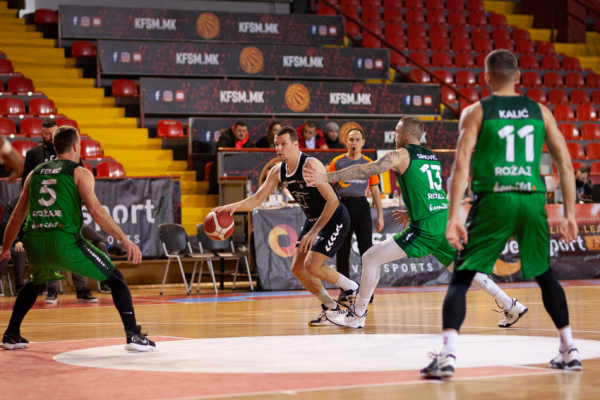 11-01-2022 | 21:47
KK TFT
made an important step towards qualifying for Stage 2 in Delasport Balkan League. The Skopje team defeated KK
Ibar
at home
87-83
after a thriller in the final minute and moved to a 4-4 record. More importantly TFT also won by more than they lost to Ibar in Rozaje so they also now have the tiebreaker advantage. The Montenegrins now have 2 wins and 5 defeats and need to win all of there remaining three games in order to qualify. Next week they'll host Sigal Prishtina while TFT is hosting Ironi Rain Nahariya on January 24th.
The hosts had a very good start to the game to take an early 13-3 lead. Soon though Ibar started playing better and improved its offense to get closer to the hosts. They managed to cut the deficit to four before Tashovski scored to put TFT up by 6 after ten minutes. In the second quarter the teams remained close as there were no big leads. Still the home side stayed ahead but not by much as at the break the difference remained 6 points.
Things continued the same way in the second half with the two teams being close and with TFT leading not by much. With 3:49 to play in the game the visitors were finally able to tie the score but then Maslinko responded to put the hosts ahead once again. The teams then exchanged baskets as Ibar finally took the lead with Felec scored a trople with 1.45 to go. Kostoski missed on the other end and Pavlovic scored one more triple for the visitors to put them up by 4 with 58 seconds on the clock. TFT though didn't give up and thanks to a free throw by Horton, then a steal and a basket by him, cut the deficit to just 1. In the next offense Ibar made another mistake and Bishop scored a triple on the fast break to put the hosts ahead once again with 8 seconds to go. The Montenegrins still had a chance to tie but Simovic missed two free throws, then Knezevic grabbed the rebounds and his shot was blocked. The visitors after that fouled Kostosko who scored twice from the free throw line to decide the game.
Landrius Horton
had a great game for the winners finishing with 35 points, 8 rebounds and 5 assists as he scored 8 three-pointers from 10 attempts.
Jermaine Bishop
had a nice BIBL debut with 13 points and also hitting the go-ahead triple at the end while
Andrej Maslinko
had 9 points and 6 rebounds.
Five players scored in double figures for the visitors with three of them having 15 -
Armin Kalic
,
Vasilije Knezevic
(11 rebounds) and
Marko
Ljujic
.
BOXSCORE
News
Next Game
No Games Scheduled