Maccabi Next Urban Haifa finishes its Balkans trip with a win in Skopje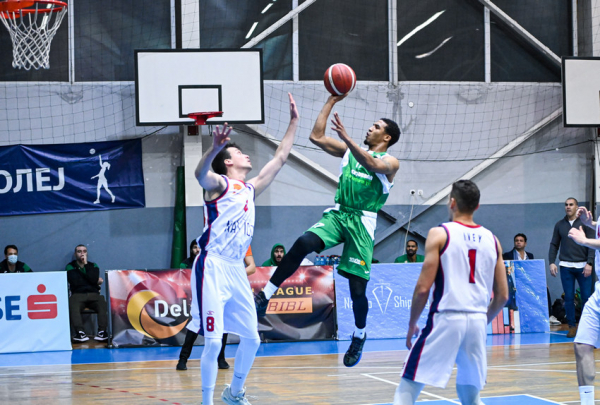 17-01-2022 | 21:54
Maccabi Next Urban Haifa
recorded its fourth win in Group A of Delasport Balkan League. In its fourth game of the trip on the Balkans, the Israelis defeated
KK Navico Akademija FMP 112-89
after playing better from the middle of the second quarter onwards. The hosts had started well but from one point on the physicality of the visitors showed itself and they managed to take a lead and controlled the game after. Maccabi now has 4-3 record and will host on February 3rd in its last game of Stage 1. They team is already qualified for Stage 2 as it remains to be seen which position they'll take. As for FMP it was the sixth loss in a row and the team's chances are almost over. To qualify for Stage 2 they'll need to beat Levski on Wednesday by at least 30 points, then beat Balkan and in the meantime hope that Levski will lost its both games in Israel.
It was a close first quarter with the hosts having the lead for most of the time. After Maccabi took a 1-point lead FMP finished on an 8-1 run to go up by 6 after ten minutes. The second quarter started on a 7-2 run as the hosts went up by 11 but then the visitors woke up and closed the gap. They scored 10 points in a row to cut the deficit to 1 and shortly after that they even took the lead. FMP retook it to go up by 3 but Maccabi was on a roll and thanks to a 14-2 run went up by 9 points and finished the half leading by 10. The visitors started the second half on an 11-2 run as it took their advantage to 19 points. After that moment Maccabi controlled the game and had no trouble until the end.
Glen Rice Jr.
had his best game of the season finishing with 30 points in 24 minutes.
Kwame
Vaughn
had a double-double with 21 points and 11 assists as
Raphniel Putney
had 18 points and 10 rebounds.
The hosts were once again led by
Billy Ivey
who had game-high 33 points and adding also 7 rebounds.
Nedeljko
Koshanin
and
Filip
Bakoch
also did by scoring 15 points each.
BOXSCORE
News
Next Game
No Games Scheduled