Navico Akademija FMP wins its first game after a great comeback but fails to qualify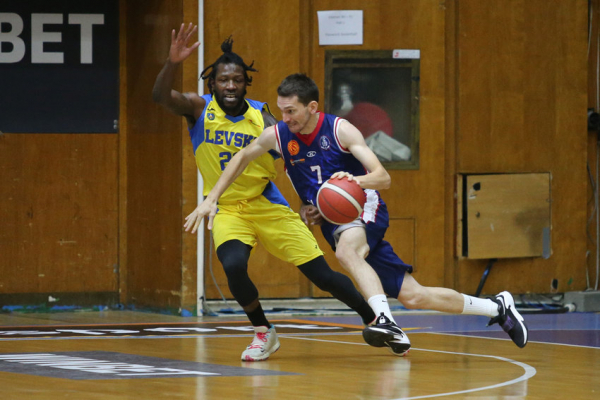 19-01-2022 | 21:03
KK Navico Akademija FMP
managed to win its first game in Group A of Delasport Balkan League but will fail to qualify for Stage 2 of the competition. The North Macedonian side defeated BC
Levski 2014
by a score of
84-81
away in Sofia to celebrate their first ever official win in the competition. The difference however is not enough as The Blues won in Skopje by 29 points and given the fact that FMP has just one more game left, they have the tie-breaker disadvantage and can't pass Levski for a Top 4 spot,. The Blues are with 2-4 record and will travel to Israel to visit Hapoel Nufar Energy Galil Elion and Maccabi Next Urban Haifa. The North Macedonian side on the other hand stands at 1-6 record and will host Balkan in its final match of Stage 1.
Levski had a very good second half of the first quarter which allowed the team to pull ahead. That happened to a 14-2 run which put the hosts up by 15 points. When the first ten minutes finished, the difference was 12 and in the second quarter the hosts controlled their advantage. It even went as high as 20 points but FMP cut some of the deficit so we had a 15-points difference at the break.
In the third quarter the visitors managed to erase all of their deficit and suddenly were back in with a chance. They did so by starting the half with 8 points in a row which cut the hosts' lead to just 7. After Levski scored to stop the run, another one followed and after 8 more straight points, the difference became just a point. Until the end of the quarter the teams exchanged baskets, FMP even took the lead twice, but it ended with the score tied at 61. In the final minutes the teams continued to chase each other and the score remained close. With Levski leading by 2, Ivey managed to convert a 3-point play to put FMP up by 1 and a minute later he scored again following few misses by the hosts. Little cut the deficit to 1 after a basket on the other side but with 37 seconds to play Bakoch scored a triple and the visitors scored their free throw after that to hold on for their first win.
Once again it was
Billy Ivey
to lead FMP as he finished with 29 points and 6 assists.
Stefan Krstajic
also did well by adding 17 points and 6 rebounds as
Filip Bakoch
and
Leonid
Torovoski
had 11 points apiece. The visitors were perfect from the free throw line going 18 from 18 which helped them to win the match.
The hosts were led by
Mario Little
with 21 points and 5 assists while
Ivica Radic
had 20 points and 7 rebounds.
BOXSCORE
News
Next Game
No Games Scheduled