We present: Delasport Balkan League team of the season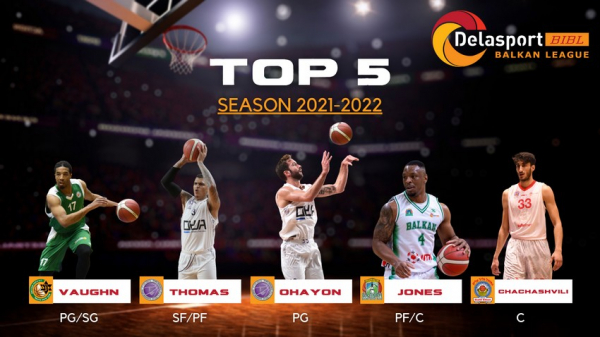 28-04-2022 | 22:48
As the season of Delasport Balkan League is drawing to a close, it's look back and see who the best players were. A lot of names put their feet on the court and we witnessed some very good individual performances. The one that stands out is that by Billy Ray Ivey who 41 points in his Akademija FMP's defeat against Levski. He also finished the season as the top scorer but due to the fact his team was eliminated in Stage 1 he couldn't fight with the others for the entire season. There were some players who not only performed constantly from throught the campaign, but also contribued to their teams's success and the qualification for the Final 4. Below you can find Delasport Balkan League's choice for the Best 5 players of Season 2021/2022:
Guards:
Yogev Ohayon
(Ironi Rain Nahariya) – the name speaks of itself. A highly experienced player with lots of games at the best stage in Europe – his presence in the competition made it richer. Ohayon wasn't the best statistical player for his team but he was the main force behind the good performance all season. Ohayon's experience, pure class and quality were visible every time he stepped on the court. His 10.8 points, 5.9 assists and 3.8 rebounds and efficiency rating of 13.9 in 12 games were good enough for him to prove himself as one of the best players in the competition. The best game of Ohayon was the most important so far – against Balkan which was a direct battle for a qualification for the Final 4 when he finished with 19 points, 8 assists and 5 rebounds with high efficiency.
Kwame Vaughn
(Maccabi Next Urban Haifa) – the American didn't start the season with the team but after he was signed, became right away one of its, if not the most, important players. He was given the keys to running the offense and was a constantly key performer in the quest for reaching the Final 4. The experienced guard didn't have a game where he played less than 30 minutes and had two double-doubles along the way – against Akademija FMP in Stage 1 and in the second ¼ final games against Levski. Overall, in 10 games Vaughn averaged 18.8 points, 6.6 assists and 3.1 rebounds for 19.2 efficiency rating.
Forwards:
Dustin Thomas
(Ironi Rain Nahariya) – we can't overlook the MVP of Stage 1. The American took part in all his team's games in the season and had a very good form throughout. The forward is a key piece in for the team's performance and will be so in the Final 4 as well. Thomas had just one double-double but he had three games with 9 rebounds and other three with 7. In 14 games the American had averages of 14.6 points, 7.2 rebounds, 2.2 assists for an efficiency rating of 19.1.
Christian Jones
(BC Balkan) – he played just six games but his contribution for the team's qualification to the Final 4 is undeniable. The American joined in late February and immediately improved Balkan's fortunes. It wasn't a surprise that he was chosen as an MVP for Stage 2 as he had three double-double in four games in it. He added one more in the ¼ final against Sigal Prishtina so in short time he proved himself to be one of the best in the whole season.
Center:
Gabriel Chachashvili
(Hapoel Nofar Energy Galil Elion) – the 22-year-old had a very good season and certainly improved throughout the campaign and developed his game further. The center was part of a dominant team, so he didn't have a game with more than 26 minutes played. Nevertheless, he did well every time he stepped on the court and was able to show off his skills. Overall, Chachashvili played in 10 games and averaged 9.5 points, 5.7 rebounds and 1.9 assists in just 20.8 minutes per contest. That was good enough for an efficiency rating of 14.1 so we can only imagine what kind of numbers he would've had, had he played more.
News
Next Game
30 Nov 2022

KK Milenijum Kodio
KB Peja


Bemax Arena
Referees:
Ognjen Jokic
Aleksandar Pavlov
Xhelal Mumini
Commissioner:
Zoran Sutulovic
Schedule
Podgorica | Bemax Arena

30 Nov 2022
KK Milenijum Kodio
KB Peja

Beer Sheva | Noam Khayim Sport Complex

01 Dec 2022
Hapoel Altshuler Shaham Beer Sheva/Dimona
BC Beroe

Stara Zagora | Obshtinska

07 Dec 2022
BC Beroe
BC Budivelnyk Kyiv

Stara Zagora | Obshtinska

13 Dec 2022
BC Beroe
KB Bashkimi

Sofia | Universiada

15 Dec 2022
BC Levski 2014
KB Bashkimi

Peje | Karagaci

20 Dec 2022
KB Peja
KK Milenijum Kodio
All times are local time