Semifinal 1 preview: Hapoel Nofar Energy Galil Elion vs Ironi Rain Nahariya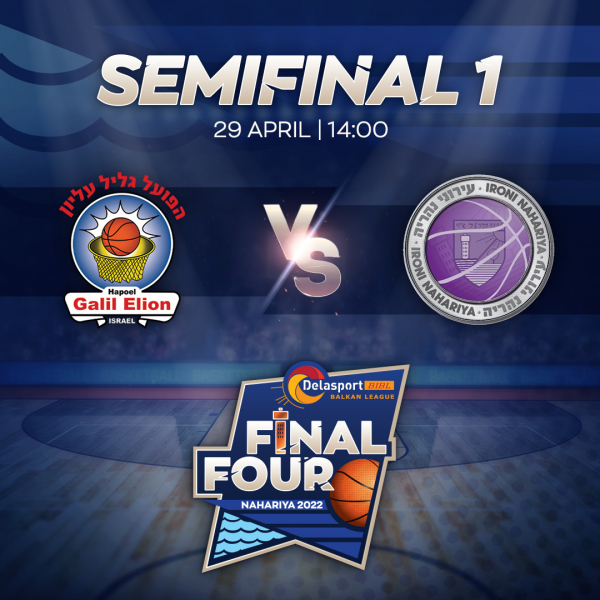 29-04-2022 | 10:34
The first semifinal of Delasport Balkan League offers a lot of excitement. A team coming as a favorite to win the competition -
Hapoel Nofar Energy Galil Elion
, will play the hosts of the Final 4
Ironi Rain Nahariya
. The match starts at 14:00 local time and will be broadcast LIVE on Sport 5 for Israel, RING TV in Bulgaria, and online on BTVsport.bg and Delasport Balkan League's YouTube channel.
Hapoel has a very deep roster as the team showed that throughout the season. The threath for the opponent can come from each player and this is the main weapon of coach Barak Peleg. It's hard to single out one name in the team's roster as the depth is really valuable. Hapoel has been one of the top teams in Israel's Winner League and this is why the team is coming as a favorite in the Final 4. Whether it'll be Ike Iroegby, Bryce Washington, DJ Kennedy or Chavaughn Lewis, the team has some experienced American players who will try to impose their will on the court. When you add to them the up and coming Chachashvili and Levi, then we can see that Hapoel has also a lot of firepower under the basket. Whether Hapoel will live up to its potential today or will fold under the pressure of home fans, we are just few hours away from knowing it.
The home side will have the strength of playing in its own gym and will have the support of its fans. All season they didn't change a single player in the roster so the chemistry is on a high level so hopefully for them, that will come in to effect today. Of course, Ironi will be led by the experience of Yogev Ohayon who is without doubt the most famous player and the star of the team. The other main players are Dustin Thomas, Stephaun Branch and Clarke Rosenberg who will have to step up in order for the team to have a chance. How will Ironi Nahariya cope with the pressure of being the home team and whether that will turn out to be a positive, it remains to be seen. But one thing is clear - the team will give its all to win today.
News
Next Game
No Games Scheduled