Semifinal 2 preview: Maccabi Next Urban Haifa vs BC Balkan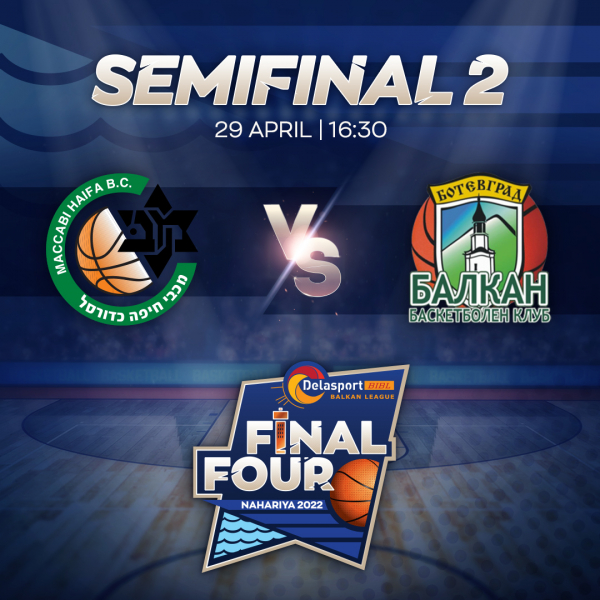 29-04-2022 | 10:55
The second semifinal of Delasport Balkan League's Final 4 sees
Maccabi Next Urban Haifa
playing BC
Balkan
. Those two teams have already played against each other although there have been changes to both rosters so those game are not relevant moreover - a F4 tournament is a completely different thing than a regular season game. The match starts at 16:30 local time and will be broadcast LIVE on Sport 5 for Israel, RING TV in Bulgaria, and online on BTVsport.bg and Delasport Balkan League's YouTube channel.
Maccabi comes in to this game with the confidence of eliminating Levski in the 1/4 final after two wins. The Israelis had a tough start to the season but thanks to some roster moves, now they are in a much better position and are looking like a different team. Kwame Vaughn and Raphiael Putney have been with the team since the early part of the season and are were main factors of Maccabi's good performances. Recently the team added Steve Taylor, Admon Gilder and Achraf Yakoubou who already have been integrated to the team. In the recent days - the experienced Tony Mitchell was cleared to play so he will also be important if the team will be successful in Nahariya.
Balkan has been a much more solid team since February. The team made some changes to the roster in that period and after adding Ahmaad Rorie and Christian Jones they completely overturned their performance on the court. The unfortunate part was the injury of Stanimir Marinov who was aonther key piece in Nebojsa Vidic's rotation so now the other have to step up even more. Balkan has the experience and the foundation to go through to the final. Whether that'll be on display in the afternoon, it remains to be seen but there's no doubt that the team will put up a fight and give its all to win and play the second game on Sunday.
News
Next Game
No Games Scheduled