A historic partnership in the south of Israel!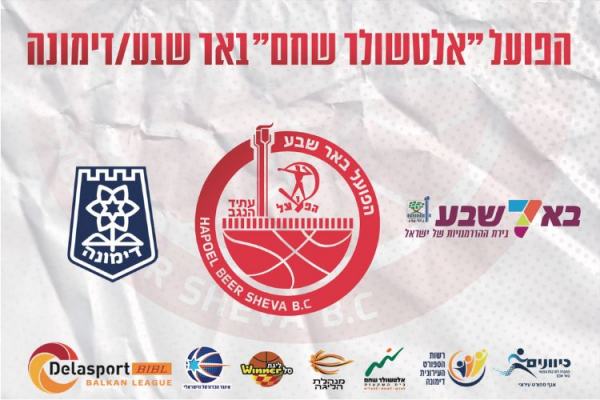 01-09-2022 | 13:54
At a special press conference held on 30.08.2022 , Hapoel Beer Sheva Basketball Club announced a broad regional cooperation between the Club, the city of Beer Sheva and the city of Dimona.
As a part of the partnership, Dimona's name will be added to the Hapoel Be'er Sheva Basketball Club's name.
In addition, the official team of Hapoel Beer Sheva, which is registered to the Delasport Balkan League season 2022-2023, will play the Balkan League home games at Dimona's basketball arena where the basketball club will provide round-trip transportation for its fans to the games in Dimona. The BIBL approved of this unification and confirmed that the team can host their games in Dimona throughout all the season.
Furthermore, Hapoel Be'er Sheva Basketball Club will provide a professional basketball program for the youth department of Maccabi Dimona and will develop a new kids department for basketball in Dimona.
More over, another program of developing girl's & women's basketball in Dimona will be implemented as a part of the club's plan which is to develop women's basketball in the Negev.
Meanwhile, Hapoel Beer Sheva and Maccabi Dimona will cooperatively operate the seniors team in Dimona in order to field a team in the ???? ??????, which will be used as a development team for the team in the Winner League.
These programs are the first step of a very broad plan which will be expanded later on, for the empowerment of basketball in the Negev.
As soon as the official game schedule of Delasport Balkan League season 2022-2023 is published, Hapoel Be'er Sheva/Dimona will know when this first historic opening game in the city of Dimona will take place.
News
Next Game
12 Dec 2023

KB Sigal Prishtina
KK Plevlja
Schedule
|

12 Dec 2023
KB Sigal Prishtina
KK Plevlja

|

18 Dec 2023
PAYABL EKA AEL
KK Lovcen 1947
All times are local time