Explosive atmosphere and superb last quarter for KB Peja win over Budivelnyk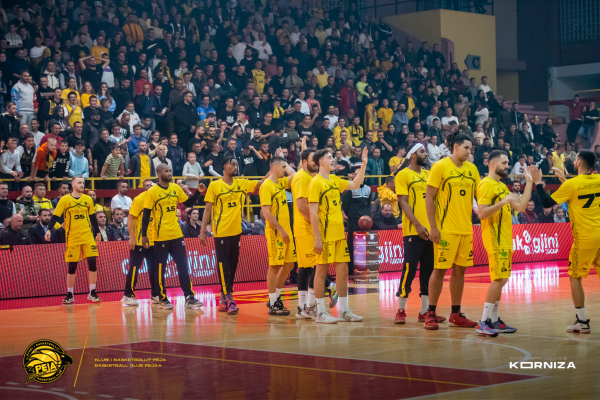 05-11-2022 | 00:12
KB Peja
continues its great season with a first win in Delasport Balkan League after
81-71
over Ukrainian
BC Budivelnyk.
The Ukrainian newcomers in the league were welcomed in the best manner in Kosovo and played a great game.
Peja had a good lead after one quarter - 26-16, but Budivelnyk overturned things until the break to one point advantage for them - 42-41.
The visitors were better in the third quarter also, and went into the last one with 6 points ahead.
Peja never gave up and did an epic comeback in the last quarter, winning it 23 to 7.
Isiah Imipig
had a superb performance with 7 triples for 25 points.
Jalen Tate
added 19 and 17 came from
Bradley Waldow. Johnny Berhanemeskel
had 23 for Budivelnyk and
Anthony Barber
added 14.
News
Next Game
01 Dec 2022
17:30
Hapoel Altshuler Shaham Beer Sheva/Dimona
BC Beroe


Noam Khayim Sport Complex
Referees:
Konstantinos Xenikakis
Ioannis Bakalis
Omer Waserman
Commissioner:
Shlomy Even Haim
Schedule
Beer Sheva | Noam Khayim Sport Complex

01 Dec 2022 17:30
Hapoel Altshuler Shaham Beer Sheva/Dimona
BC Beroe

Stara Zagora | Obshtinska

07 Dec 2022
BC Beroe
BC Budivelnyk Kyiv

Stara Zagora | Obshtinska

13 Dec 2022
BC Beroe
KB Bashkimi
Sport 5, Youtube

Sofia | Universiada

15 Dec 2022
BC Levski 2014
KB Bashkimi

Peje | Karagaci

20 Dec 2022
KB Peja
KK Milenijum Kodio

Prizren | Sezai Surroi

27 Dec 2022
KB Bashkimi
Hapoel Altshuler Shaham Beer Sheva/Dimona
All times are local time