Strong finale against Milenijum secured first win for Levski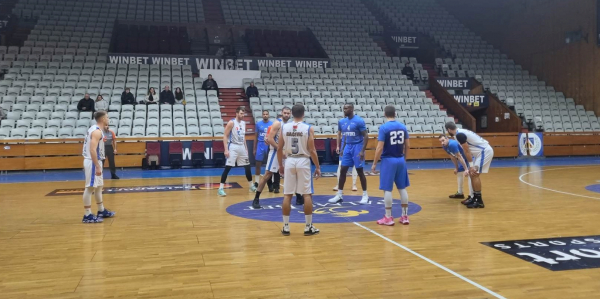 23-11-2022 | 19:58
Levski managed its first win for the season in Delasport Balkan League after defeating KK Milenijum Kodio with 82:72.
After the grueling overtime derby against CSKA less than 48 hours ago, Levski did not have much energy for the match in Universiada hall.
Milenijum didn't have it much easier, coming directly from the game with Beroe in Stara Zagora.
In the first 5 minutes, both teams scored only 10 points combined with the guests having an advantage under the basket. However, Levski went on a quick 12-0 run to take the lead before the end of the quarter.
However, the home team squandered a 10-point lead and allowed a three-pointer almost from the center with the buzzer to end the quarter 18:15.
It was Milenijum's turn to go on a 12-0 run late in the first and early in the second quarter for a complete turnaround. Both teams quickly exhausted their limit of team fouls and the action was often paused by free throws.
Two minutes before the break, Levski managed to even the score to 33:33, and by the end of the half, the Blues led by 38:34.
The third part went the same way, with a lot of fouls and a close game. Milenijum had a slight lead in those minutes, but couldn't get a serious advantage.
The final minutes belonged to Levski with another comeback for 54:50 before the last quarter.
Levski pushed harder in the closing quarter, and it paid off, with the Blues' lead reaching 13 points midway through the period and continuing to grow. At 19 in favor of the home team, it was all over with three minutes to go.
Ryan Wright had a double-double with 19 points and 11 rebounds for Levski, Alan Arnett had 16.
Bogdan Sebalovic scored 16 for the visitors.
FULL STATS
News
Next Game
23 Mar 2023
CANC
BC Budivelnyk Kyiv
BC Beroe
Schedule
Sofia | Triaditsa Hall

23 Mar 2023 CANC
BC Budivelnyk Kyiv
BC Beroe

Beer Sheva | Noam Khayim Sport Complex

28 Mar 2023
Hapoel Altshuler Shaham Beer Sheva/Dimona
KB Bashkimi

Beer Sheva | Noam Khayim Sport Complex

28 Mar 2023
Hapoel Altshuler Shaham Beer Sheva/Dimona
KB Bashkimi

Veroli | Pala Coccia

28 Mar 2023 CANC
BC Budivelnyk Kyiv
BC Levski 2014

Veroli | Pala Coccia

30 Mar 2023 CANC
BC Budivelnyk Kyiv
Hapoel Altshuler Shaham Beer Sheva/Dimona

Sofia | Triaditsa Hall

03 Apr 2023
KK Milenijum Kodio
BC Levski 2014
All times are local time