Easy win for Hapoel Beer Sheva in Sofia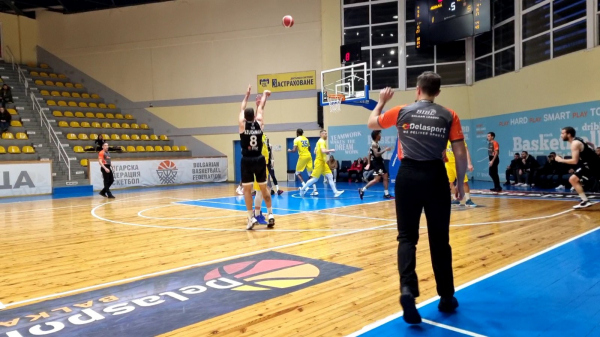 26-01-2023 | 19:15
Hapoel Beer Sheva played a good game in the second of two matches visiting Bulgaria and won against Levski in Sofia - 86-66.
The first minutes were for Levski, after the visitors came out with a rather unusual starting five. Hapoel recovered quickly and with a couple of three-pointers by Joaquin Szuchman pulled ahead. And the hosts also quickly put the juniors in the rotation, which allowed the Israeli composition to break away seriously at the end of the first part.
Hapoel continued to make 3-pointers, and the gap grew to 24-12 at the end of the first quarter, and after a 16-0 run at the start of the second, it passed 20 points and almost reached 30.
Levski could not find a way to the opponent's basket for 7 minutes, and in 10 minutes managed only one field goal.
Hapoel went into the break with a more than comfortable lead of 45:18.
The guests, in addition to three-pointers, also had serious dominance under the basket, where they scored almost twice as many points.
Although it was already too late for a turnaround, Levski played well in attack in the third part and scored more in 6 minutes than in the entire first half. The hosts reduced their deficit to under 20, but not for long, and Hapoel maintained a lead.
The end of the third period came at 64:41 without much intrigue, but Levski tried their best to not give up.
In the last minutes, the hosts played almost entirely with a youth formation and thus ended the match with a score of 66:86.
Joaquin Szuchman had 15 for the win, 13 were added by Egor Koulechov, and Joshua Friedkin had 12, as Tomer Porat added 11.
Zlatin Georgiev scored 14 points and was the only one with a double-digit asset, Martin Petrov and John Florvius scored 9.
FULL STATS
News
Next Game
No Games Scheduled