Stara Zagora municipality welcomed Final 4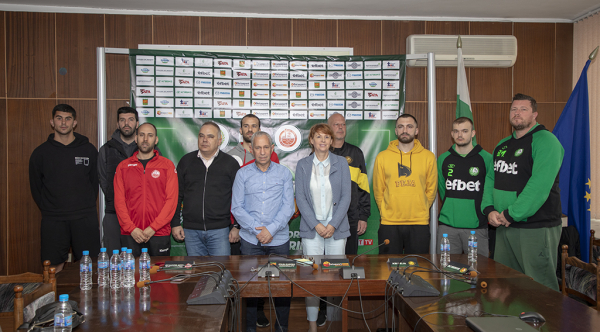 28-04-2023 | 13:12
Stara Zagora deputy mayor Mrs. Krasimira Chakhova together with Delasport Balkan League Sports Director Mr. Shay Shtriks greeted the representatives of the four teams competing for the title in the 2023 Final 4.
Beroe and the city of Stara Zagora have the opportunity for the first time to host such an event.
The finals of the league will be held from April 28 to 30th.
"I welcome our guests. We are extremely excited for today's kick-off. Thanks to Mr. Shay Shtriks for choosing us, I hope we will watch some interesting and exciting meetings and of course - fill the hall with fans. I wish success to all the teams",
welcomed Deputy Mayor Krasimira Chakhova.
"First of all, I want to thank the Municipality of Stara Zagora, without which we would not be here. We already call you our friends. I also thank Vasil Kifev, the Chairman of the Board of Directors of Beroe Basketball Club, his love and dedication to basketball are evident. We are very proud to hold the finals here. No one in Bulgaria believed that we would make this decision. For the first time in 15 years, we also have 4 teams from 4 different countries competing in the final,"
said the league director.
News
Next Game
No Games Scheduled