Hapoel Altshuler Shaham Beer Sheva/Dimona is the new champion!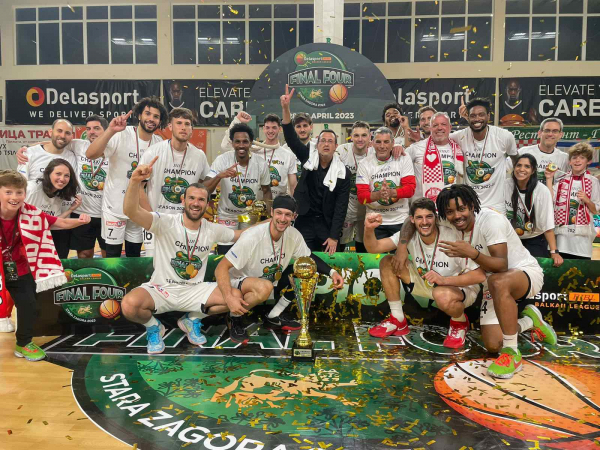 01-05-2023 | 09:51
Hapoel Altshuler Shaham Beer Sheva/Dimona was crowned 2022/23 Delasport Balkan League Champion!
The Israeli team won a great final game against KB Peja with 101-95.
Hapoel Beer Sheva started the game much better both in offense and defense. Ben Moore dominated the floor in the first minutes scoring easy baskets all the way, while on the other end, KB Peja was turning the ball too often.
Beer Sheva led by as many as 13 in the first quarter and at the beginning of the second made it 17 up.
About that time KB Peja managed to tighten the defense and David Joseph tuned in the hot hand from the semifinal. A great run by the Kosovo team cut the lead to just 6 at the break - 59-53.
For a moment Beer Sheva took better advantage after the restart but KB Peja was there to cut it again and by the half of that quarter managed to take the lead.
From there on it was a total whirlwind with many lead changes and few draws. Both teams went toe to toe until the end when decisive baskets by Greg Witthington and David Efiyani closed it for Beer Sheva.
KB Peja missed a great deal of 16 free throws, from 34 attempts. Despite getting 17 offensive rebounds, this proves to be the key to the loss.
Efiyani went on to be the Finals MVP, finishing the trophy game with 30 points. Whittington added 23 and Ben Moore - 18.
David Joseph had a second Final 4 game with 30+ points, nailing 31. Brad Waldow had 23 and 15 rebounds, and Jalen Tate - 21.
News
Next Game
No Games Scheduled