Winning return for Hapoel Gilboa Galil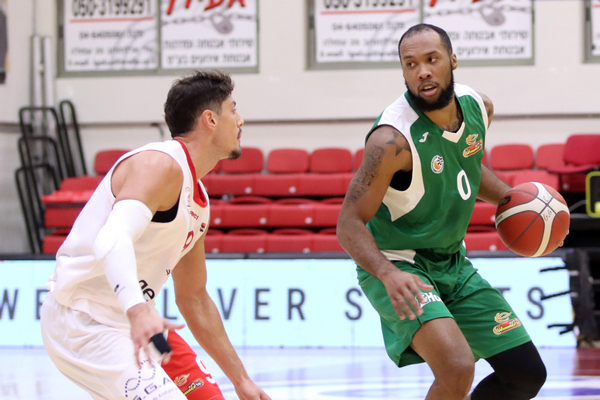 13-10-2020 | 21:29
Hapoel Gilboa Galil returned to Delasport Balkan League with a win. In a group B game the two-times champions managed to defeat Maccabi Haifa 92-81 at home after a good performance in the first half. The hosts managed to pull away in the first 20 minutes and although the visitors tried hard in the second half, Galil always had an answer and held on for the victory. In the second round on Saturday Maccabi will host Ironi Nahariya while then Gilboa Galil will visit the same opponent.
Galil scored the first 5 points of the game but just after the middle of the first quarter, The Greens were already ahead. The game remained closed until the final minute of the period when the hosts scored 5 points in a row to go up by 6. They continued to have a small lead but just before the middle of the second quarter it reached double digits for the first time. Galil not only kept it but even increased it to 17 points before the visitors scored the last 2 of the first half to make it 15 at the break. The second half was more even as Maccabi played better than the first. The visitors however never really threathened seriously despite taking their deficit to single digits a few times.
The hosts had five players in double figures with Kerry Blackshear having a double-double with 16 points and 12 rebounds. Joe Thomasson also had 16 points while Yiftach Ziv added 14 and 6 assists.
Chris Dowe was the top scorer in the game with 23 points for the visitors as Le′Bryan Nash added 22.
News
Next Game
02 Dec 2020
17.00LIVE
YouTube
KK Ibar Rozaje
KK TFT


Sportski Centar
Referees:
Xhelal Mumini
Dardan Maxhuni
Elldin Uglari
Commissioner:
Faton Kurshumlija
Schedule
Rozaje | Sportski Centar

02 Dec 2020 17.00
KK Ibar Rozaje
LIVE
KK TFT
YouTube

Stara Zagora | Obshtinska

02 Dec 2020 18.30
BC Beroe
LIVE
KK Teodo
YouTube

Plovdiv | Complex Sila

03 Dec 2020 18.00
BC Akademik Plovdiv
LIVE
KK Teodo
YouTube

Stara Zagora | Obshtinska

08 Dec 2020
BC Beroe
LIVE
KK Ibar Rozaje
YouTube

Kumanovo | Sports Hall Pero Nakov

09 Dec 2020
KK Kumanovo 2009
LIVE
KK Teodo
YouTube

Beer Sheva | The Shell Arena

09 Dec 2020 19.30
Hapoel Altshuler Shaham Be′er Sheva B.C.
LIVE
Hapoel Bank Yahav Jerusalem
Sport 5, YouTube
All times are local time