Spencer Weisz is the hero as Hapoel Be'er Sheva takes its first victory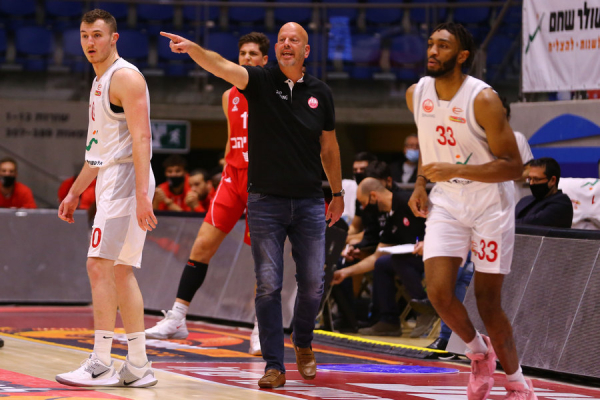 09-12-2020 | 22:04
Hapoel Altshuler Shaham Be'er Sheva
managed to record its first win in Delasport Balkan League in its final Group D game. In a dramatic fashion the team defeated
Hapoel Bank Yahav Jerusalem
76-73
at home thanks to a decisive basket in the final seconds. Thanks to that result the hosts finished the group with 1-3 record while Hapoel Jerusalem is tied with Maccabi Rishon LeZion at 2-1 and they will decide the winner in the last round.
The name of the hero for Hapoel Be'er Sheva is
Spencer
Weisz
. With the score tied at 71 points he hit the decisive triple with 6.6 to play and gave his team the lead for good.
Suleiman
Braimoh
and
Amit Suss
exchanged free throws at both ends and then a long attempt by Chris Kramer at the buzzer was not successful.
Generally it was a close game but the hosts managed to pull away by 9 points at the end of the third quarter. They continued to have the lead in the fourth as well before Hapoel Jerusalem made a good run to tie. Both sides exchanged points afterwards and then came the moment of
Weisz
.
Amir Bell
led a balanced effort by the home team finishing with 14 points.
Amit Suss
added 12 while
Weisz
had 10. In total Hapoel Be'er Sheva scored 12 triples from 35 attempts which compared to 6 from 25 for the visitors was decisive.
Suleiman Braimoh
was the top scorer in the game with 21 points while he also had 10 rebounds for a double-double. Idan Zalmanson scored 18 points as Chris Kramer added 15 and 9 rebounds.
BOXSCORE
News
Next Game
21 Jan 2021
18.00LIVE
YouTube
BC Akademik Plovdiv
KK Ibar Rozaje


Complex Sila
Referees:
Dimitrios Bitis
Konstantinos Xenikakis
Suzana Vujicic

Schedule
Plovdiv | Complex Sila

21 Jan 2021 18.00
BC Akademik Plovdiv
LIVE
KK Ibar Rozaje
YouTube

Tivat | S.C. Zupa

26 Jan 2021
KK Teodo
LIVE
KK Kumanovo 2009
YouTube

Rozaje | Sportski Centar

27 Jan 2021 17.00
KK Ibar Rozaje
LIVE
KK Kumanovo 2009
YouTube

Plovdiv | Complex Sila

28 Jan 2021 18.00
BC Akademik Plovdiv
LIVE
BC Beroe
YouTube

Kumanovo | Sports Hall Pero Nakov

02 Feb 2021 19.00
KK Kumanovo 2009
LIVE
BC Beroe
YouTube

Skopje | SC Kale

02 Feb 2021 19.30
KK TFT
LIVE
KK Ibar Rozaje
YouTube
All times are local time