Delasport BIBL: Thank you, Hapoel Haifa!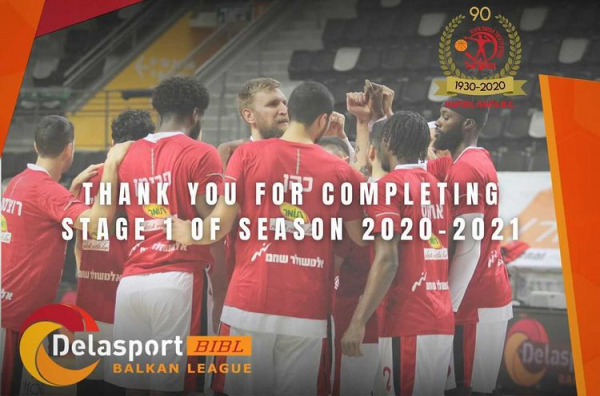 10-01-2021 | 11:55
Hapoel B-Cure Laser Haifa
finished the First Stage of Delasport Balkan League after losing to Hapoel SP Tel Aviv at home on Saturday evening. Due to that result the team didn't qualify for the semifinals as it finished third in Group A.
Now the management of Delasport Balkan League would like to say:
Thank you, Hapoel Haifa, for participating in Stage 1 of season 2020/2021
!
The team finished the group with 1 wins and 3 defeats. The results were as follows:
Hapoel B-Cure Laser Haifa - Bnei Herzliya
71:90
Hapoel SP Tel Aviv - Hapoel B-Cure Laser Haifa
90:94
Bnei Herzliya - Hapoel B-Cure Laser Haifa
92:76
Hapoel B-Cure Laser Haifa - Hapoel SP Tel Aviv
73:79
News
Next Game
19 Jan 2021
18.00LIVE
YouTube
BC Beroe
KK Ibar Rozaje


Obshtinska
Referees:
Dimitrios Bitis
Konstantinos Xenikakis
Stavros Evfraimidis

Schedule
Stara Zagora | Obshtinska

19 Jan 2021 18.00
BC Beroe
LIVE
KK Ibar Rozaje
YouTube

Rishon LeZion | Beit Maccabi

20 Jan 2021 19.00
Maccabi Rishon LeZion
Hapoel Gilboa Galil B.C.
Sport 5, YouTube

Plovdiv | Complex Sila

21 Jan 2021 18.00
BC Akademik Plovdiv
KK Ibar Rozaje
YouTube

Tivat | S.C. Zupa

26 Jan 2021
KK Teodo
KK Kumanovo 2009
YouTube

Rozaje | Sportski Centar

27 Jan 2021 17.00
KK Ibar Rozaje
LIVE
KK Kumanovo 2009
YouTube

Plovdiv | Complex Sila

28 Jan 2021 18.00
BC Akademik Plovdiv
BC Beroe
YouTube
All times are local time