Road to the Final 4: BC Beroe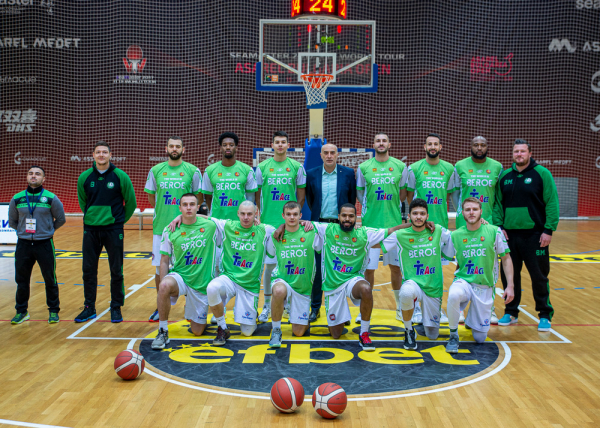 21-04-2021 | 17:56
BC
Beroe
is one of the two teams in the Final 4 of Delasport Balkan League that has already won the competition. That happened in 2017 with the same coach -
Lubomir
Minchev,
and two years later they reached the F4 in Tirana only to lose both its games there. Now in the semifinal The Stara Zagora team will meet fellow Bulgarian side BC
Akademik
Plovdiv
and will be hoping to reach another final.
It was a season of ups and downs for
Beroe
as the team had many problems, especially with injuries. It was rarely that we saw The Greens with their full roster and that is visible from the results. Beroe had a tough start to the competition losing three of its first four games. The only win came against Ibar in Rozaje and the team was defeated by
Akademik
,
Teodo
and
TFT
in close games.
Things started to change when Beroe went on a four game home stand and The Greens won them all - against
Teodo
,
TFT
,
Kumanovo
2009
and
Ibar
. That put them in a good position and qualified them for Stage 2.
There were however two more games to be played in Group E and they both finished in defeats - away to
Akademik
(again by a single point) and then at
Kumanovo
.
In Stage 2 there was no room for bad matches and Beroe showed determination already in the first one. In a hard-fought contest in Skopje, the team defeated KK
TFT
to take an important advantage in the battle for the Final 4. What followed was a big loss at
Hapoel Gilboa
Galil
but the team traveled without some key players. Just a week later
Beroe
secured its F4 participation after another close game with
TFT
and a win by just a point. That left the door open for The Greens to show up with no pressure and have their best performance of the season. At home they defeated
Hapoel
Gilboa
Galil
with a monster game by KJ Feagin who finished with 39 points. That showed that this is a team with a potential although it was not showed every time on the court.
Beroe
finished the Second Stage with 3-1 record and tied with
Hapoel
. Now what's left for the team is to show its A game when it matters - in the semifinal against
Akademik
Plovdiv
. The teams have met five times in BIBL and in Bulgarian league and all the games have been won by the Plovdiv side. That however won't matter in Holon on April 27th so
Beroe
will be hoping that this time the luck will be on their side.
RESULTS OF BC BEROE IN DELASPORT BALKAN LEAGUE, SEASON 2020/2021
News
Next Game
No Games Scheduled