Superb run in the fourth quarter keeps Beroe's chances alive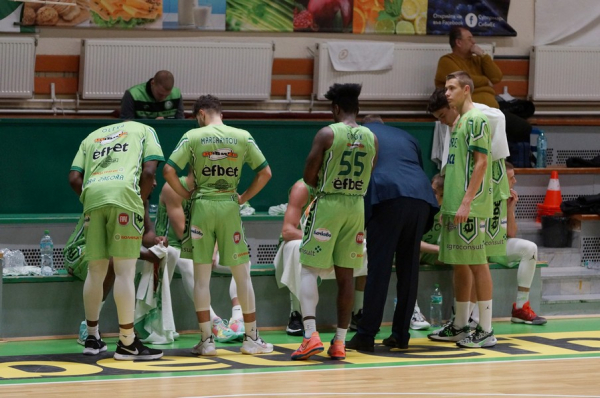 13-01-2022 | 18:54
Beroe's
hopes and chances to qualify for Stage 2 in Delasport Balkan League are still alive. The Greens managed to beat
Akademik Plovdiv 98-91
at home and move to a 3-6 record. They have a game against TFT away on February 2nd left and in order to advance will have to hope that their opponent will lost to Ironi Nahariya a week earlier and then to beat them by at least 11 points. In the meantime it was the last game for Akademik in Stage 1 as the team ended with 5 wins and 5 defeats and will finish third or fourth in the group. In tonight's game it was a fourth quarter run that decided the outcome as it broke a close game and the hosts controlled the difference in the last five minutes.
The visitors scored the first 6 points of the game and had the early lead. Beroe managed to cut the deficit quickly and went ahead but a bit later Akademik made a 7-0 run to break a tied game. The hosts answered with 6 points in a row but the Plovdiv team kept leading to be up by 5 after ten minutes. In the second quarter things didn't change much. The visitors were up and the hosts were close as they finally took the lead back just after the middle of the period. Akademik though once again responded to go up by 6 and at the break they led by 3.
In the third quarter Akademik kept leading as the difference was in the range between 3 and 7 points. Near the end of it Beroe managed to close the gap to just a point and early in the fourth took the lead. Akademik answered with two points to go ahead but it was the last time the did so. Beroe followed with a 15-1 run which suddenly gave them a 13-point lead and they held on after that.
Obinna Oleka
was the top performer for the winners with a double-double of 30 points and 10 rebounds.
Anton Cook
also did well by adding 26 points as
Cadarian
Raines
was close to a triple-double after finishing with 14 points, 11 rebounds and 9 assists.
Akademik was missing key players due to various problems and played with a rotation of seven, but nevertheless did well. The top performer was
Nikolay
Titkov
who finished with 30 points.
Roberts
Freimanis
and
Nikolay
Nikolov
also did good by scoring 16 points apiece.
BOXSCORE
News
Next Game
No Games Scheduled