Congratulations Balkan!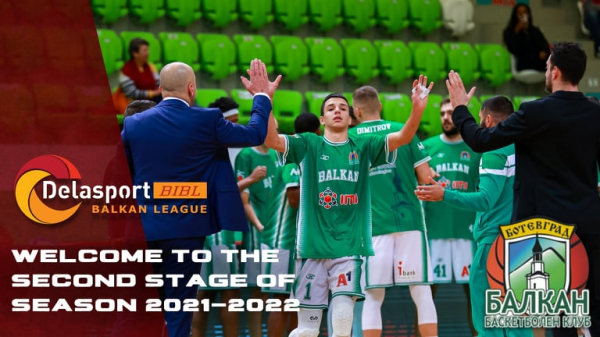 26-01-2022 | 17:43
BC Balkan
returned to Delasport Balkan League following a 7-year absence and it felt immediately that the team will be one of the strongest. The Greens from Botevgrad managed to advance to Stage 2 after finishing with 4 wins and 4 defeats in Group A of the competition. In their last match they lost to KK Navico Akademija FMP but they already knew that the final result wasn't important.
Balkan played some good games during the First Stage and their best win perhaps came against Maccabi Urban Next Haifa at home 88-81. For sure Balkan will finish third in the group and will be looking for a good performance in Stage 2 as well.
Now, the management of Delasport Balkan League would like to say: Congratulations BC Balkan for making it to Stage 2 of season 2021/2022 and good luck for Stage 2!
By clicking on the link below, you'll be able to check all of Balkan results from the season so far:
RESULTS OF BC BALKAN IN GROUP A OF DELASPORT BALKAN LEAGUE
News
Next Game
No Games Scheduled